A few photoshop tutorials for
gotaluvsims2
. There are 33 800x600 pics total. :)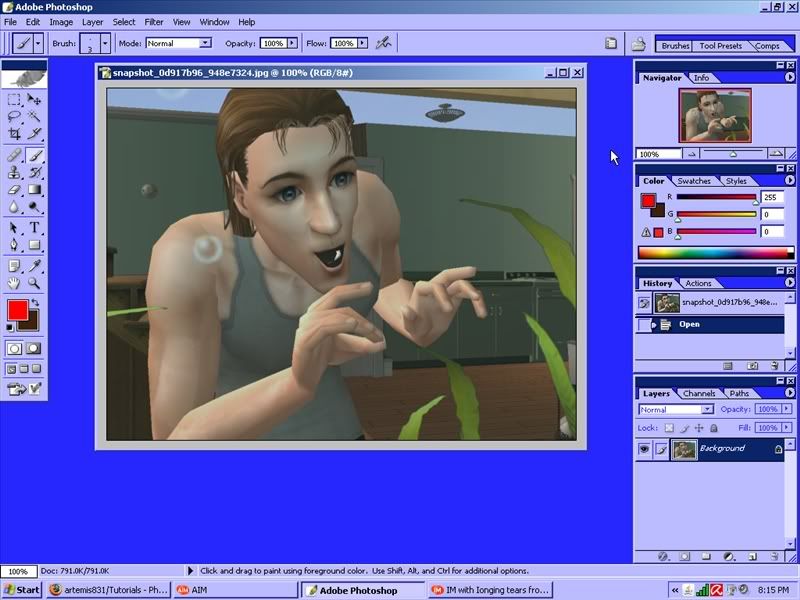 So, here's the test image we'll use for today. Hello Ripp!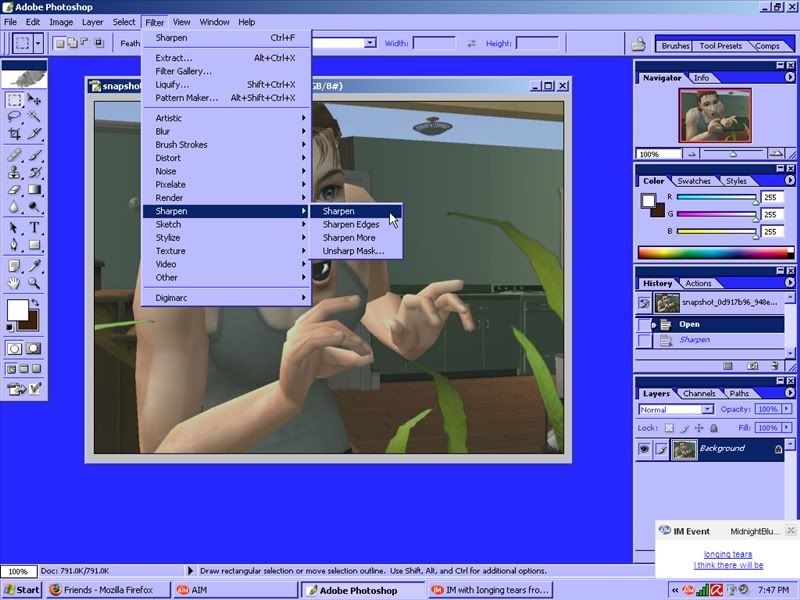 Before doing borders, I like to do all my editing and such, so to sharpen, you go to Filter --> Sharpen and click Sharpen.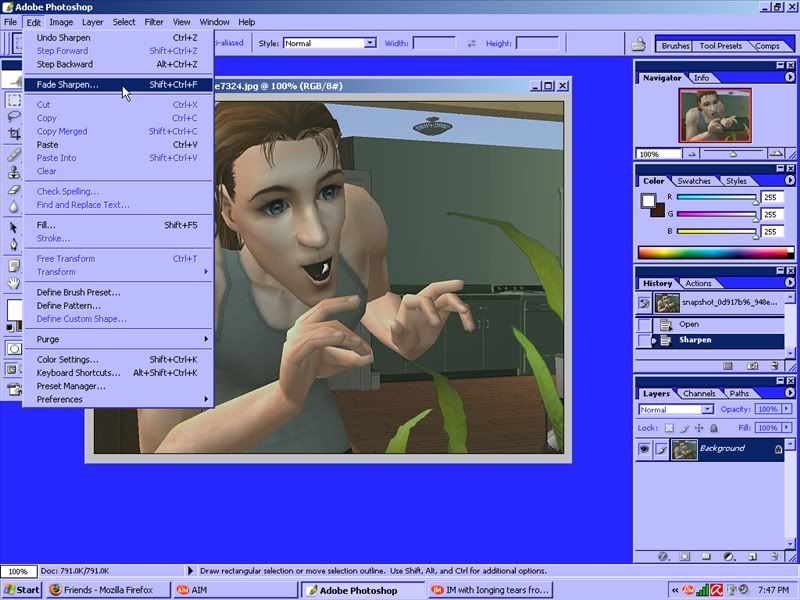 Adobe Photoshop CS doesn't have a pop up with Sharpen, so if you find that the sharpening is just a bit too severe, you can fade it a bit, but going to Edit --> Fade Sharpen.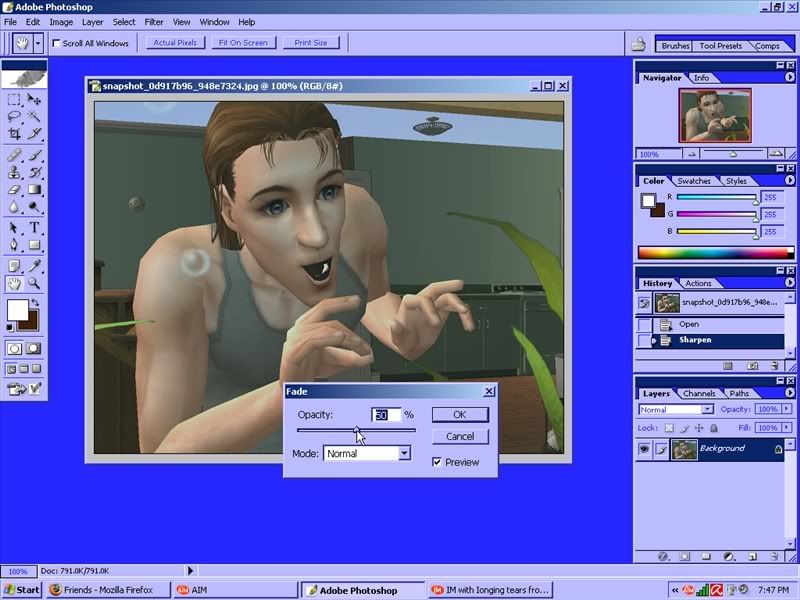 This time a little box will show up. I usually reduce it by half, but fiddle around until you find something you like.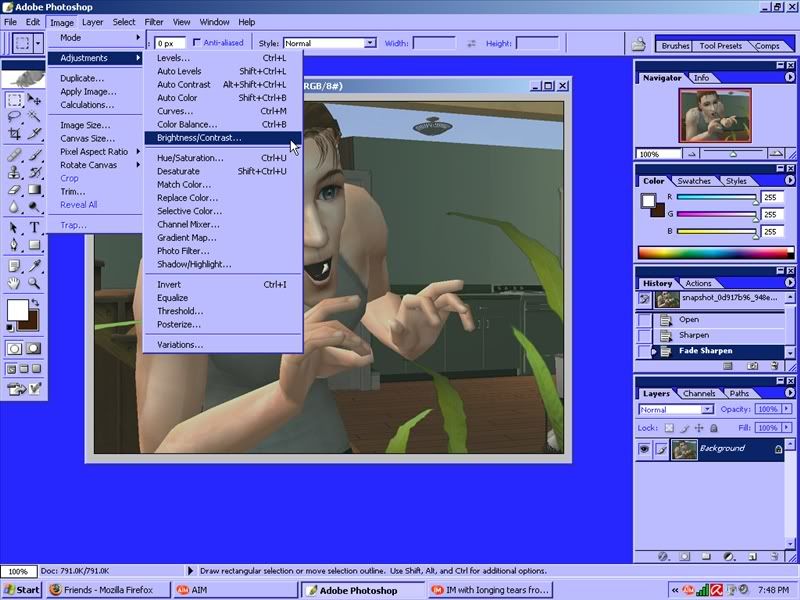 I don't do too much editing, but if you want to do so, go to Image --> Adjustments, and there's a whole bunch of options. Most are self explanatory, so just click around and mess with things.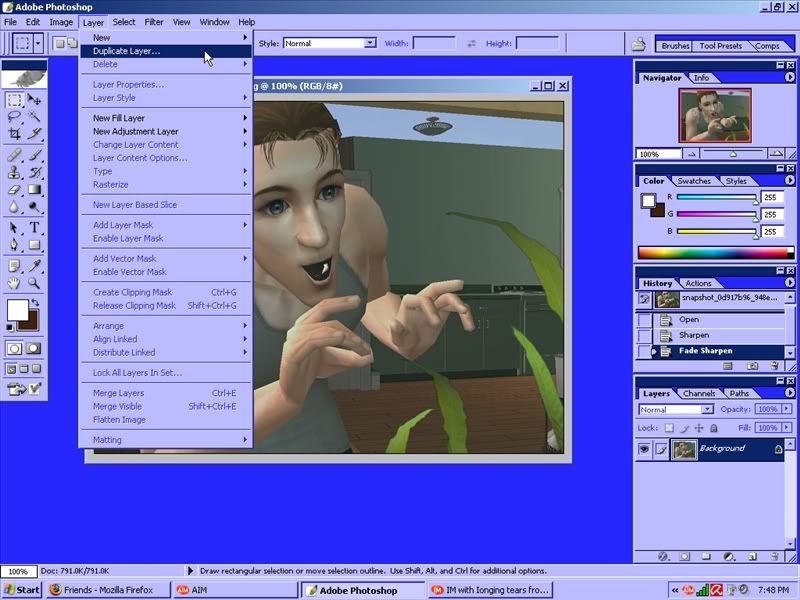 Something else you can do with editing your image is to duplicate the base layer by going to Layer --> Duplicate Layer.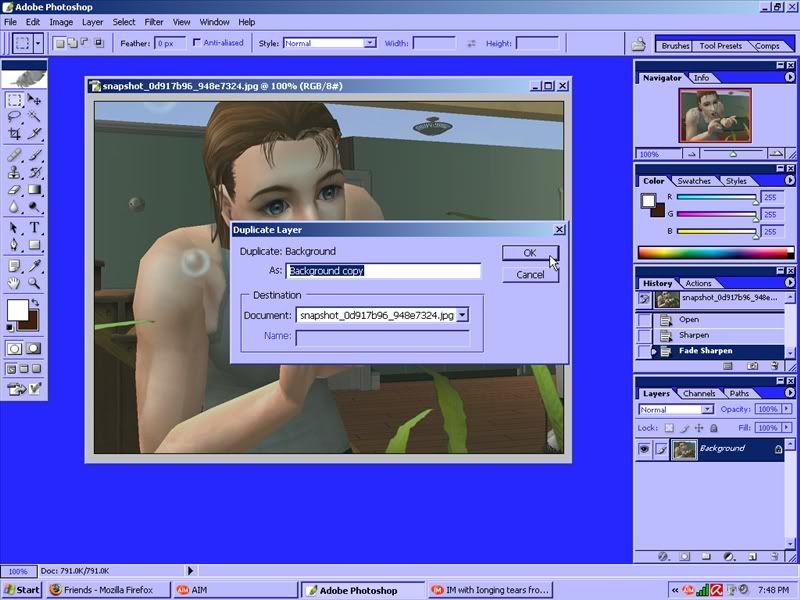 This menu will pop up. You can rename it whatever you want, but I usually just click OK.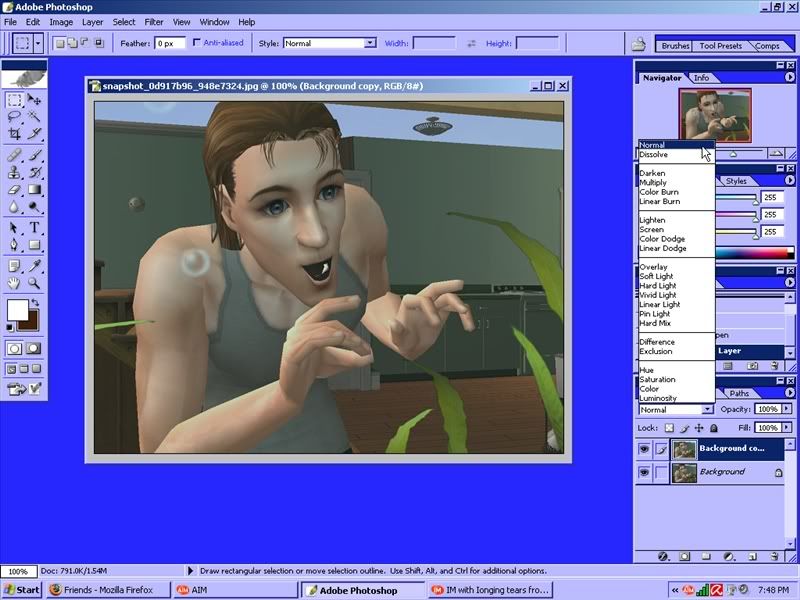 While on the second layer, you can change how the image is view with the menu above it. Look at all those options! Let's try out a few.
This is Multiply.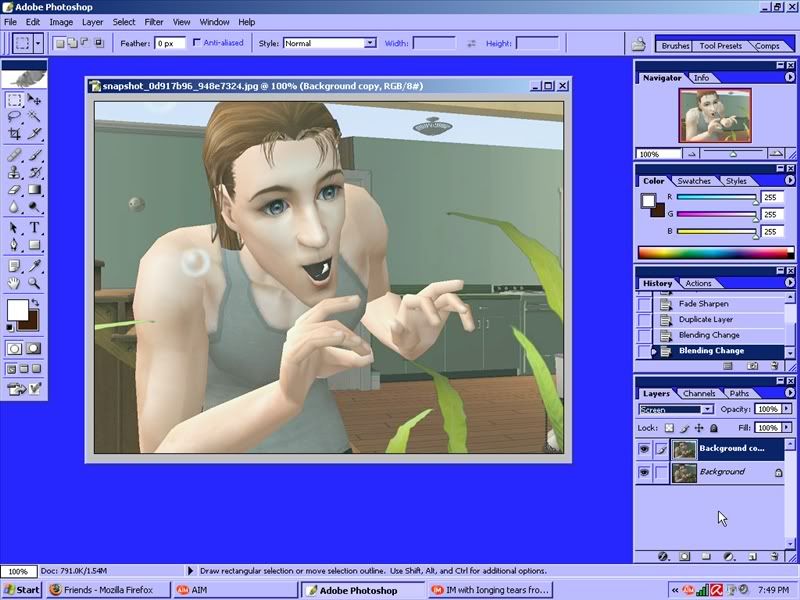 This is Screen.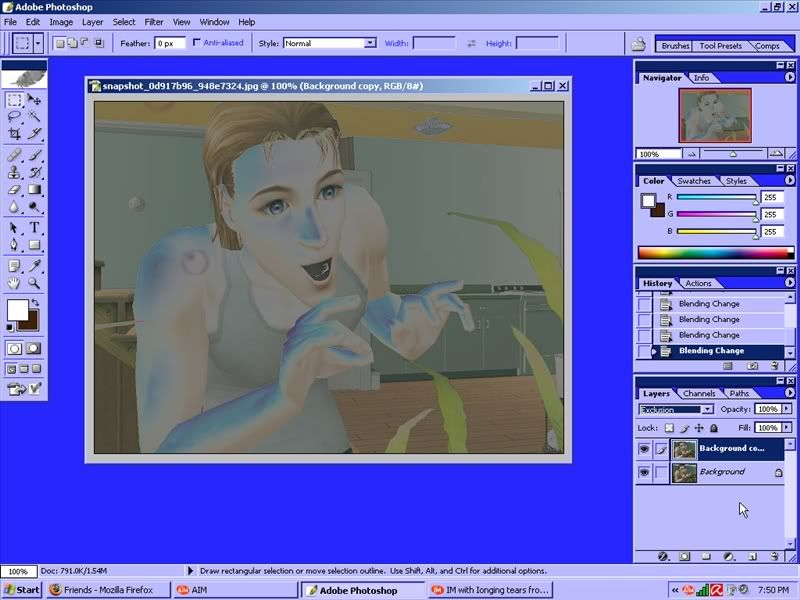 This is Exclusion.
You can also mess with the opacity of this second layer with the little scroll thingie next to the view menu we just used. Once again, play around with things.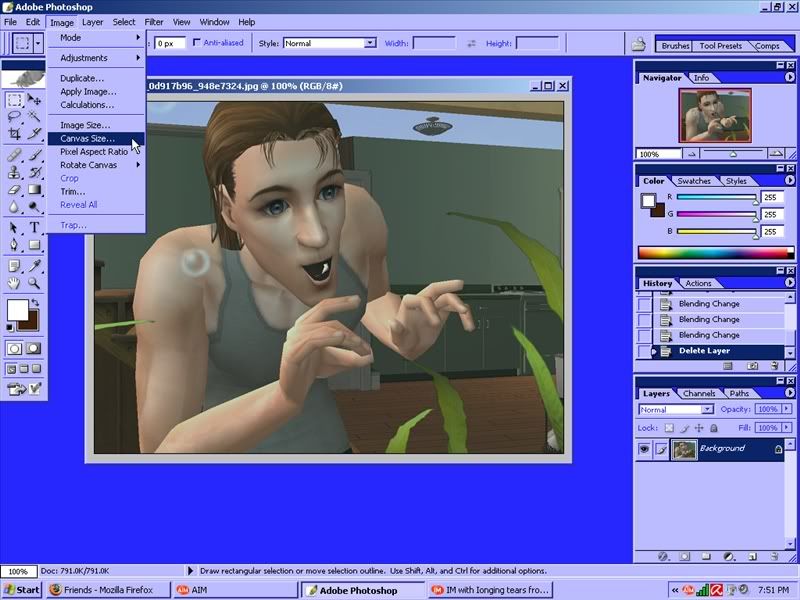 Now that the image is all ready and edited, let's make the border. This is how I do it. There are other ways to go about it, but I'm used to this way. :) Go to Image --> Canvas Size.
A box will pop up. Change the inches to pixels always. The thing to remember when doing this, is that for every ONE pixel wide you want the border, you need to add TWO to the width and height of the image. Here, I'm adding SIX to each, which will give be a border THREE pixels wide. The Canvas Extension Color can change to be any color you want. If not black, white or grey, just make sure the color you want is the foreground color before clicking Canvas Size.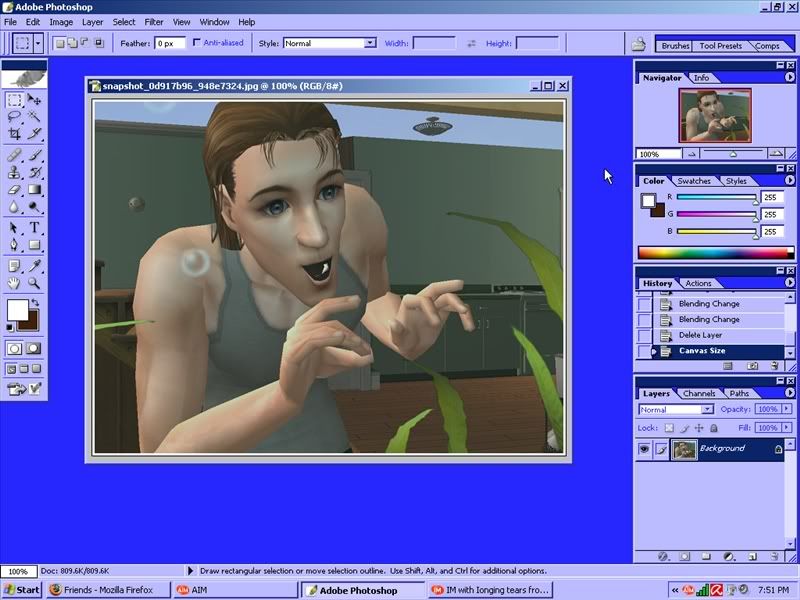 Once you click okay, ooooh look at that border! It's so pretty! But, we're not done yet! To add that little strip of black, go back to Image --> Canvas Size.
Add TWO to each. Make sure you're using pixels. This time, change the color to Black. Then, click OK.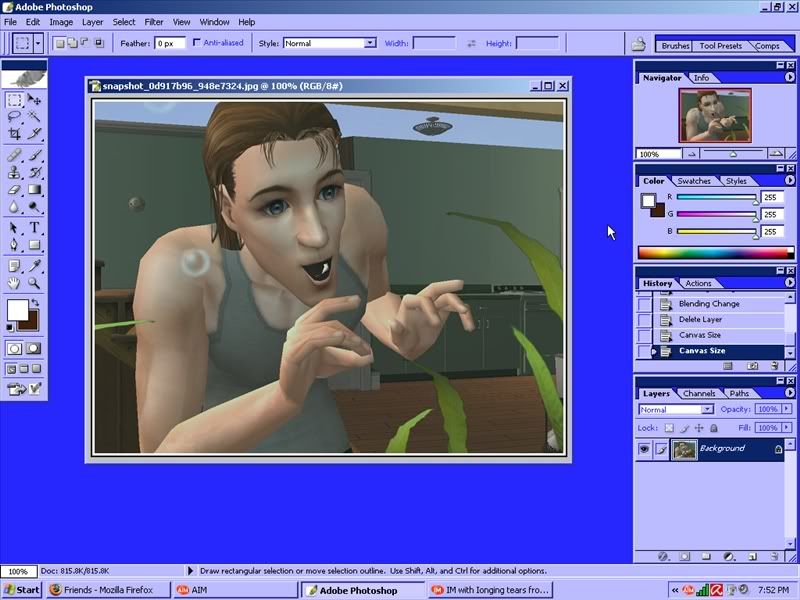 Hey, looking good! You're borders can be as wide or as thin as you want. Just remember the 2:1 ratio when adding.
And, that's how I make borders. Woot!
Now, if you'd rather not have to do this with every single image you take, you can record an Action, which will do the work for you. To do this, go to the Action Tab, which is right next to the History Tab on the middle menu on the right.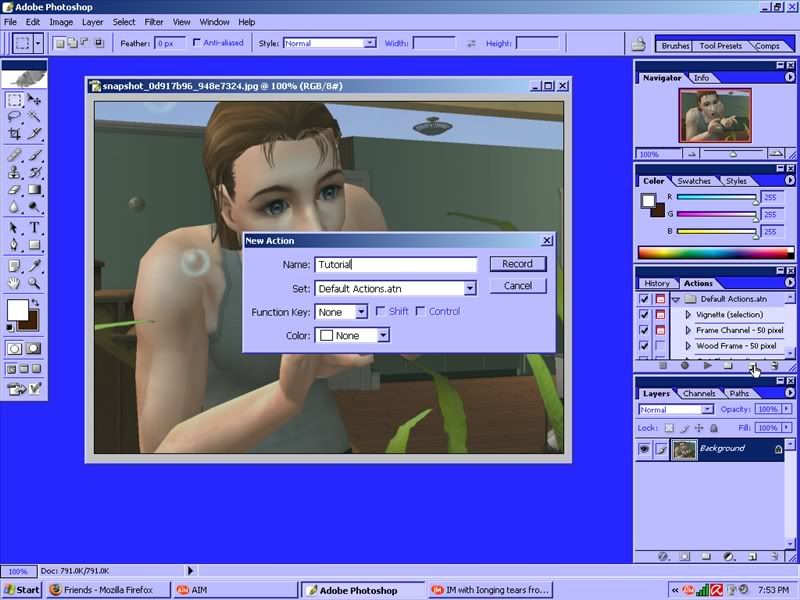 Photoshop has a bunch already there, but we want to make a new one, so click the little button that looks like a piece paper. It'll ask you to give it a title, but for now, I'll just call it Tutorial. Then click Recored.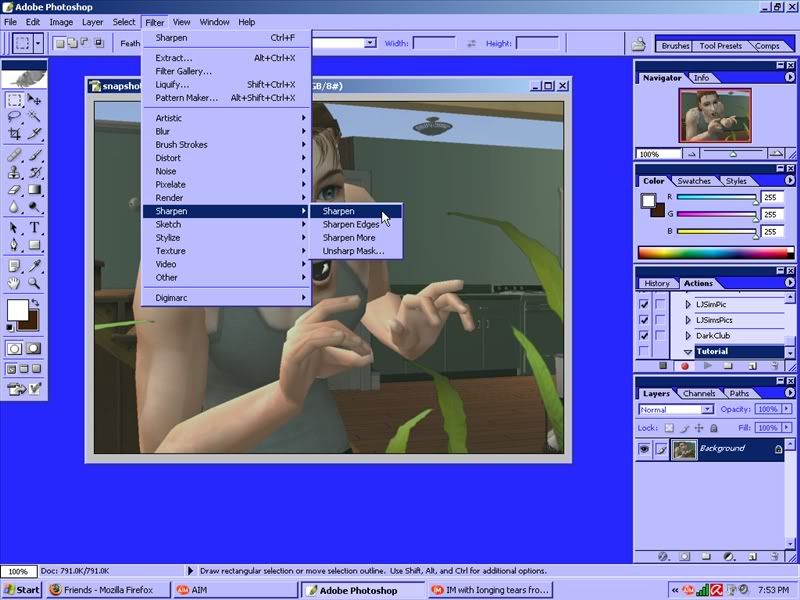 You should notice that the little red light is on now, so whatever you do to your image, the action will record it. Make sure you know what you want to do and the order to do it in, it'll make things a lot easier. For this action, I just sharpened it.
Then under Image --> Adjustments --> Brightness/Contrast, I fiddled around with that.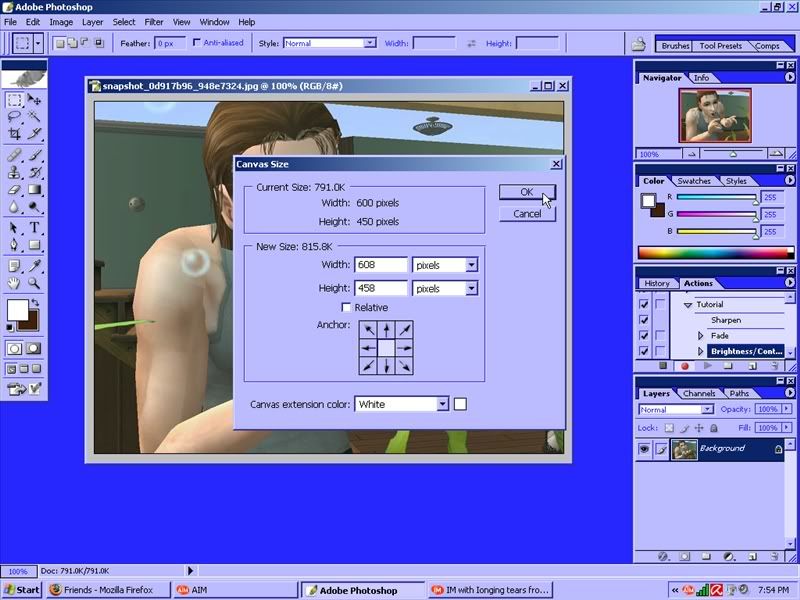 Then, I added the border like I showed you before.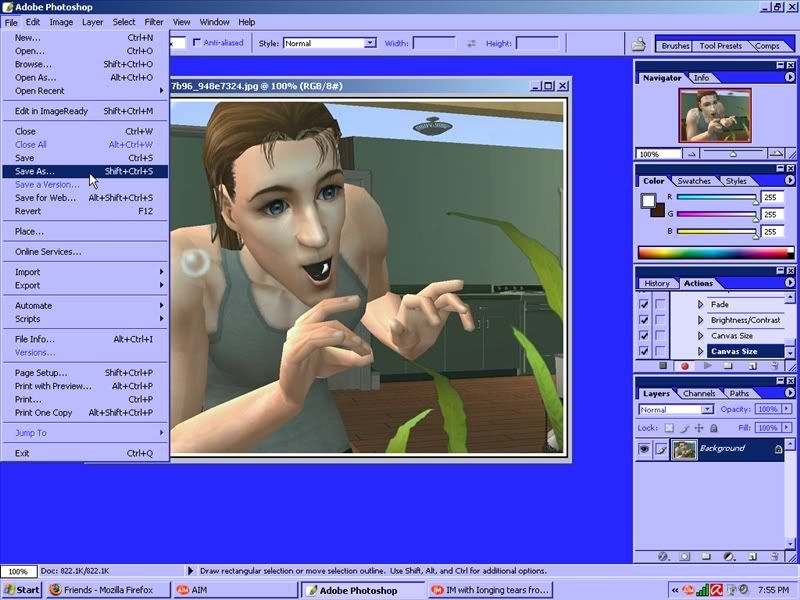 Once, you're done, remember to save, but DO NOT stop recording just yet. I'll explain why in a moment.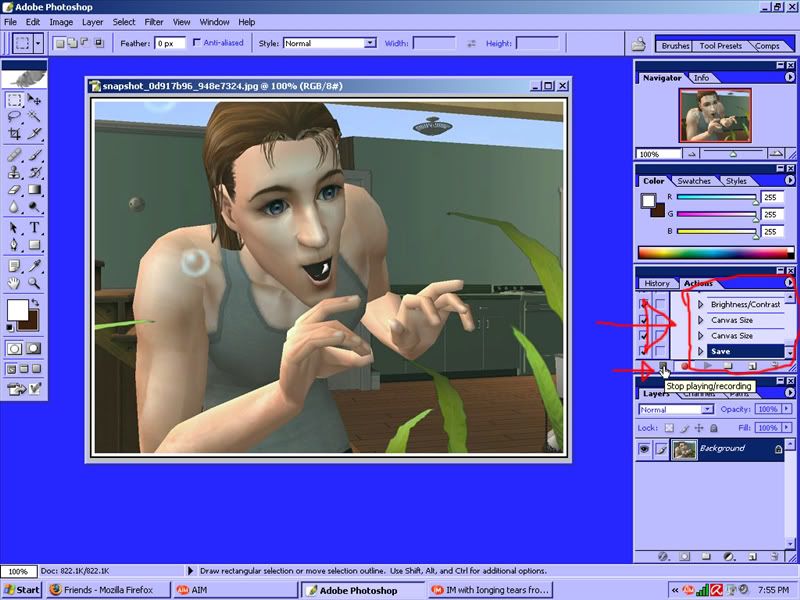 After saving, Press the stop button (the 2nd smaller arrow). You'll be able to see what actions it recorded (the bigger arrow).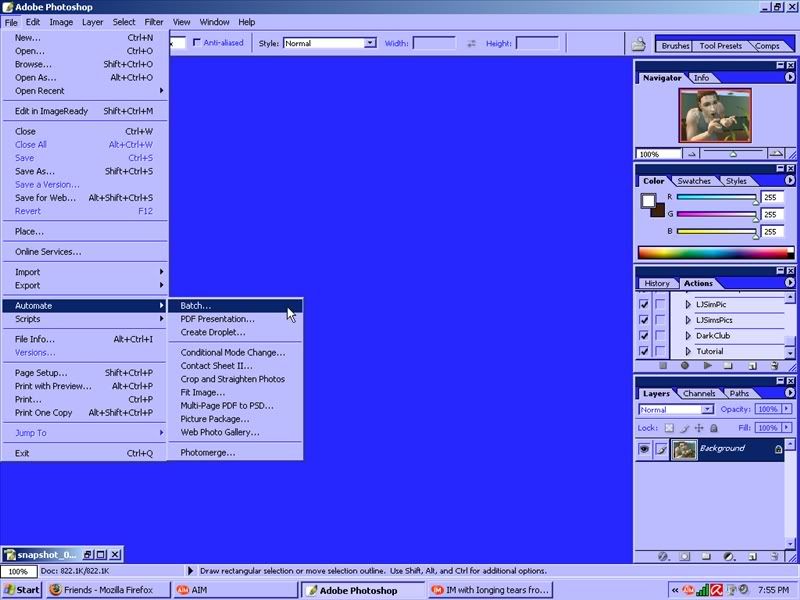 If you have a whole bunch of photos you want edit with an Action, you can do so in one big batch. Go to File --> Automate --> Batch.
A large box will show up. First, choose the Action you want it to do.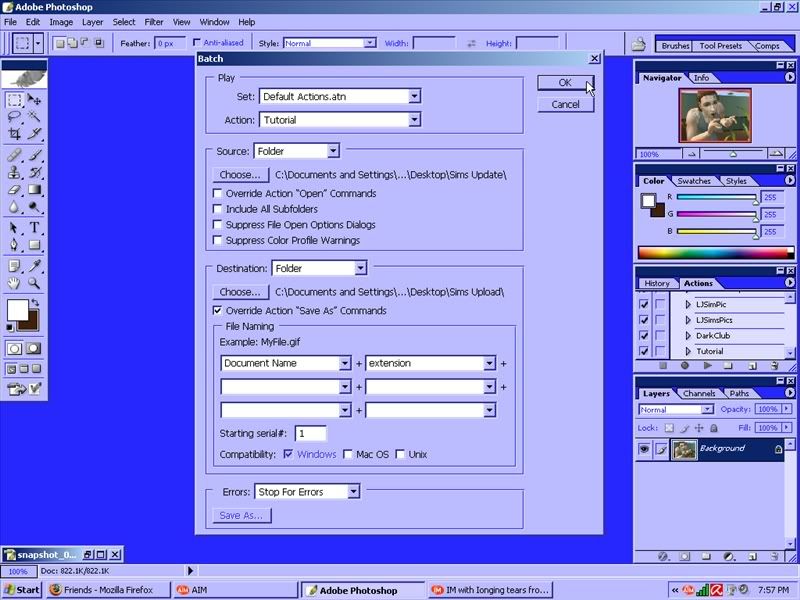 To do this, you must have all the pics in one folder ready to go, and you must have a destination folder ready as well. Something to remember is that when the batch is done, it will be done in a random order, at least for me it does. Also, make sure to check Override Save As Commands, so the images won't save what is done to them. This is why why recorded Saving earlier.
Once you click OK, you'll see each image have the action performed on them. When all the images are done, they'll be edited in the destination folder, and you're done!
That was how to record an action! Yay!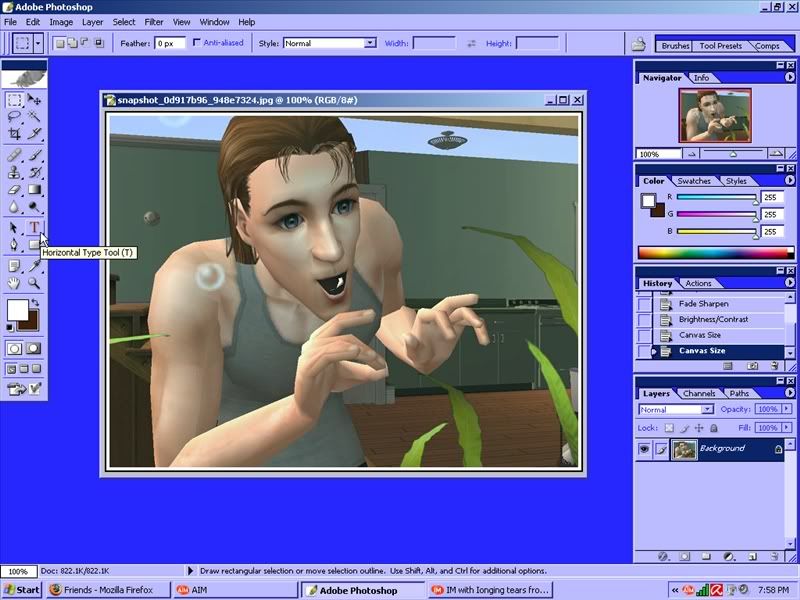 Moving on to Text. Once your image is all edited and bordered, click the text tool.
Click the image and type whatever you want. :)
You can change the color, size, font, justification etc. of the text in the top menu. You can also move it around just by moving the layer around with the move arrow. The fonts seen will be the ones installed on your computer.
If you want more fonts, you can go to: http://www.dafont.com/ Here, you can download tons of fonts. After downloading, extract each font, then put the file, (not the readme it may come with), in My Computer --> Local Disk (C:) --> WINDOWS --> Fonts. The font should quickly install itself. Then, it'll show up in photoshop ready to use!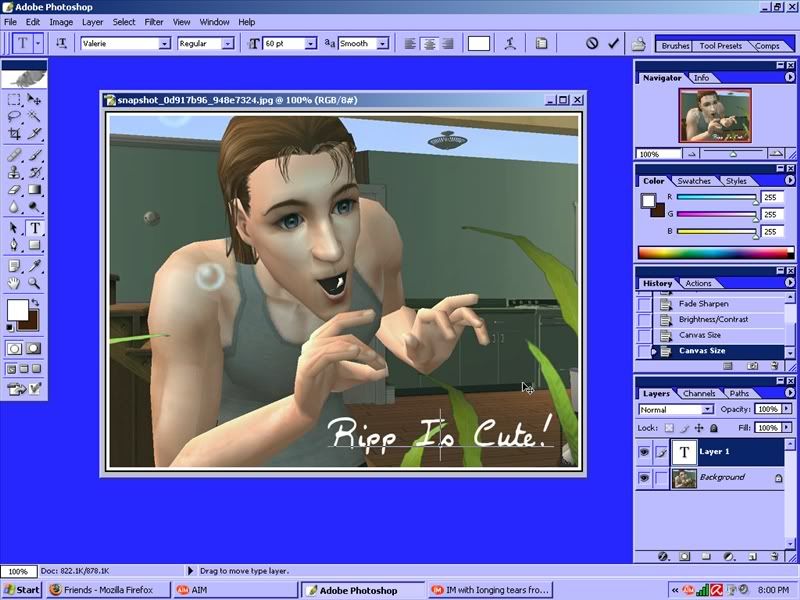 Once your happy with the basic font and look, right click the text layer.
A little menu should show up. Click Blending Options.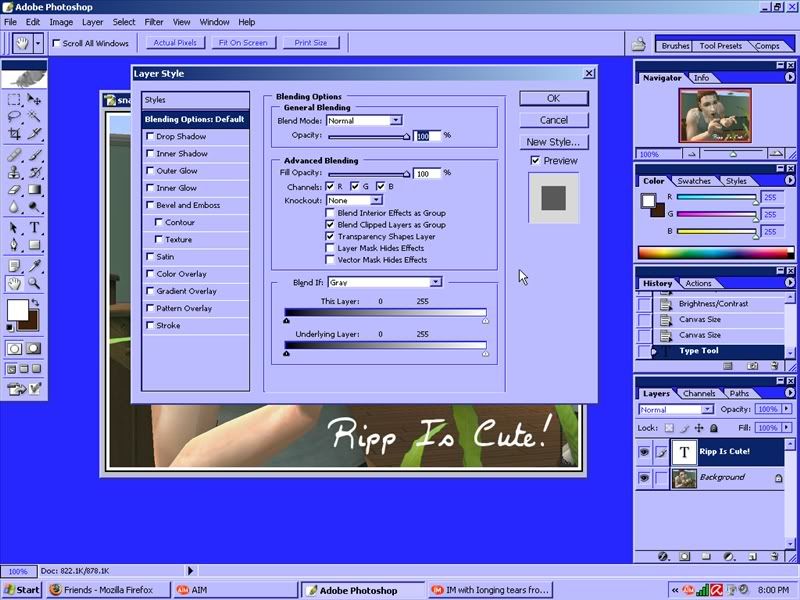 This box has quite a number of options. There's drop shadow, color overlay, stroke, etc. I've learned what I know just by playing around with each and seeing what they do. Some things are subtle, some are huge. Just mess around with the options until you find something you like.
A few clicks later, and I like what I see! If you want to change, you can always go back.
Woot for pretty text!
If there is anything else anyone needs a tutorial for, I'm here for ya! I can't guarantee I'll know how to do it, but if you've seen me do something with an image, and want to do how I do it, just ask! ^_^
Current Music: Ninja Warrior Marathon